Catching the shapes of nature in silver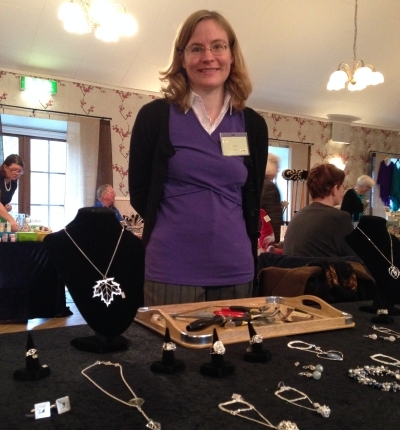 I have always been fascinated by the process of doing an artistic creation; how I get an idea and see something in front of me, which I then work hard to transform into an artistic creation with my hands, so it can be shared by other people as well.
I have always enjoyed creating things with my hands, and I started painting a long time ago. In 2004 I discovered silversmithing, and since then creating jewelry has been my main occupation as an artist.
Nature is one of my biggest sources of inspiration and shapes from nature is the starting point for a lot of my jewelry, both as direct reproductions and as shapes in abstract pieces. I want to enforce the strong connection with nature in my art and therefore I always photograph my jewelry in my own garden, giving each photo of a piece of jewelry a distinct look and feel based on the season when the piece was finished and what greenery was then available as a suitable background for the product photos!
I am registered with SWEDAC, and my jewelry is stamped with MGA. To be registered with SWEDAC means that you can lookup information about me as someone working with precious metals here and that I take responsibility for the correct stamping of the metals I work with.
I am a member of the Art societies Open minds and Skurupsbygdens konst- och hantverksförening (SKFH). My hometown is Malmö in the south of Sweden, and I often take part in Art exhibitions and marketsin my local region. If you are passing by you are very welcome to come and meet me there!